Baltimore Ravens Mock Offseason
Release/Not re-signed/Retired
Ray Lewis
Matt Birk
Cary Williams
Billy Bajema
Bryant McKinnie
Ma'ake Kemoeatu
Sean Considine
Chris Johnson
Paul Kruger
Restructured
Re-signed
Ed Reed
Joe Flacco
Arthur Jones
Ryan McBean
Ramon Harewood
Dennis Pitta
Ed Dickson
Anthony Allen
Bobby Rainey
Damien Berry
LaQuan Williams
David Reed
Emmanuel Cook
James Ihedigbo
Dannell Ellerbe
Josh Bynes
Omar Brown
Coaching Moves
Andy Moeller – Fired
Chris Strausser – Hired as O-line Coach
Shawn Watson – Hired as QB Coach
Free Agent Acquisitions
-Formerly of the saints
-Capable run blocker
-Strong pass protector
-Most likely cheaper than Jake Long and Branden Albert
-Inexpensive
-Good Run-Stuffer
-Can't be worse than Kemo
NFL Draft (Option 1)
**Assuming we have 3 Comp picks: 1 4
th
, 1 5
th
, and 1 6
th
.
** Draft assumes we grab a FA LT of some sort doesn't necessarily have to be Bushrod
1. With the 32
nd
pick in the 2013 NFL draft the Baltimore Ravens select…
No one because they trade down into the second round with the New York Jets.
Jets get:
Ravens 1st round pick
Ravens 5th round pick
Ravens get:
Jets 2nd round pick
Jets 3rd round pick
2. (From Jets) The Ravens select Matt Elam S University of Florida 5'11" 205lbs-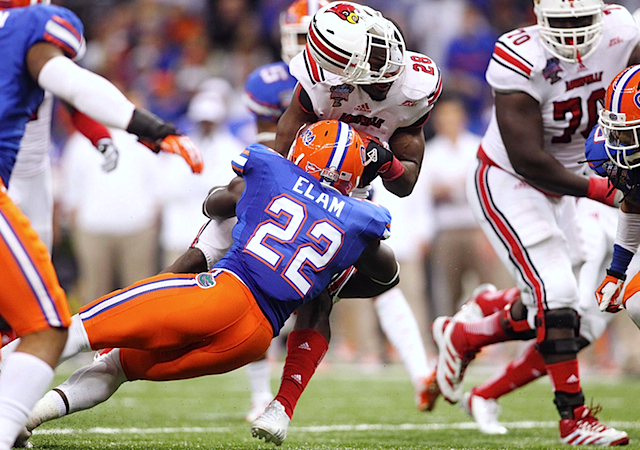 Elam is incredibly athletic, has a non-stop motor, and is always around the ball. He has quick feet and good speed that allow him to recover when he makes mistakes but he is a very instinctual player that always seems to be in the right place at the right time. He has been a leader on the Florida defense since his sophomore season. He punishes anyone that comes in his territory and is a natural and fluid center fielder. He has good ball skills and is everywhere on the field making plays. His tackles pack a punch that make receivers and running backs alike think twice about going near him. The only knocks on him are he is a little undersized and has a tendency to be over aggressive.
2. The Ravens select Arthur Brown LB Kansas State 6'1" 230lbs-
Arthur Brown is a fantastic linebacker with great instincts. He has rare athleticism and good burst. He is a good tackler that won't miss many tackles. He's a great leader and has a great work ethic. He is a gifted run stopper which is odd with his size but he plays with a mean streak and is able to stack and shed better than any linebacker in the draft. He is also phenomenal in coverage with the ability to read QB's and stick to his assignment. He is a special talent and is in contention for the 2
nd
best ILB in the draft behind only Manti Te'o.
**The Ravens trade their 3
rd
and 4
th
for Washington's 2
nd
2. (From Washington) The Ravens select Khaseem Greene LB Rutgers 6'2" 230lbs-
Khaseem Greene dominated all year long and won his second consecutive BIG East defensive player of the year award. On top of that he was named an All-American. He is loaded with athletic ability as he is a converted safety. He does well in coverage and makes plays in the backfield. He is an explosive pass rusher with a great burst and closing speed. He is a great tackler that drives through players. He does have some weaknesses though which include some trouble disengaging blockers, only slightly above-average instincts and he isn't great against the run. He is also a bit undersized.
3. (From Jets) The Ravens select Aaron Mellette WR Elon 6'4" 215lbs-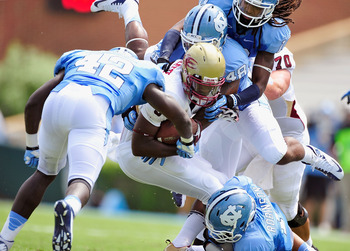 Aaron Mellette is a special receiver and if he falls to the 3
rd
the ravens have no choice but to scoop him up. He has put up ridiculous numbers his whole career albeit is against weak competition but nonetheless he is a dominant receiver with #1 potential. He has great size and his hands are like fly paper he catches everything thrown remotely in his direction. He is a crisp route runner with good speed (around a 4.5) and quickness to go along with this. He does have a couple drawbacks though. He doesn't have a huge vertical but he makes up for it with incredible body control and hand-eye coordination. He also creates plenty of yards after the catch. His other drawback would be is lackluster blocking ability. But overall he has loads of potential.
4. Comp Pick The Ravens select Brandon Williams NT Missouri Southern 6'3" 330lbs-
Brandon Williams is like a poor man's Sheldon Richardson in my mind. He is a dominant pass rusher with great athleticism. He broke Missouri Southern's sack record during his time there. This year alone he recorded 8.5 sacks and 16.5 tackles for a loss. He isn't a slouch against the run either. He clogs the middle of the line and dominates the point of attack. He was just selected to his 3
rd
consecutive AFCA All-American team. On top of this he recorded 8 QB hurries, 5 forced fumbles, 2 pass breakups, and 68 tackles! 68 tackles is a huge number for a NT.
Edited by Miami Hurricane, 05 January 2013 - 09:03 PM.